Take that you shoddy scales. You wouldn't budge on Friday... but I have another trick up my sleeve. Everyone, please welcome on stage...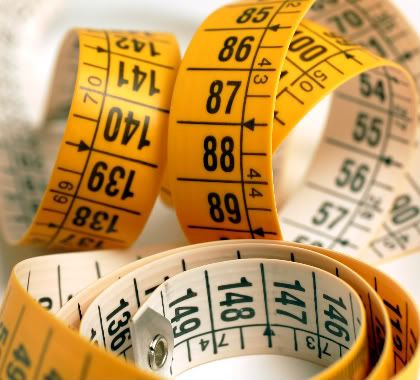 My trusty measuring tape! No
weight
loss last week, but my waist is 2 cm smaller than it was 2 weeks ago. And no, I wasn't sucking in! Ah I feel better now...
Just completed my 5th shred session, and am ready for a shower :)
Today's food:
1 brown bread roll, scrambled egg, 1 crispbread, 2 slices of cheese, 1 tsp of my mum's home made strawberry freezer jam

Fiskeboller (if I translate this for the non-norwegians you'll all think I ate the private parts of a fish, so I'll leave it! lol) with a smallish potato, carrots and bechamel sauce

Porridge made with water - with banana and seeds added

Home made cauliflower soup with a crispbread

A low-cal caramel latte, yum!

TOTAL: approx 1450
kcal