This recipe is posted over on my other blog, but I thought I'd share it here too. I don't eat much bread these days, as I have found it makes me really bloated. Instead I munch on these yummy crispbreads: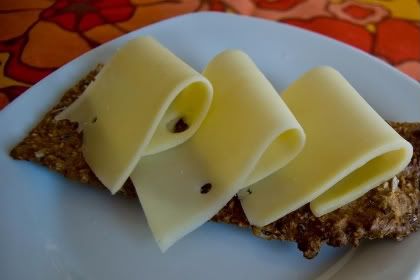 Spelt Crispbreads:

(Makes about 20 largeish crispbreads, each one contains approx 85 kcal according to the recipe analyser at CalorieCount)

350 ml spelt flour
350 ml porridge oats
150 ml wheat- or oat bran
150 ml sesame seeds
200 ml sunflower seeds
50 ml linseeds
1 tsp salt
1 tsp baking powder
(my addition)
700 ml water
Preheat a fan assisted oven to 190°C (for a non fan assisted oven I'd probably do 210-220°C). Mix all ingredients in a large bowl. It will form a very soft and sloppy dough, more like a batter actually. Line two large baking trays with baking parchment, and spread the batter quite thinly - half on each tray. Place in oven and cook for 10 minutes. Remove from oven and cut with a pizza slicer. Return to oven and cook for a further 30 minutes. Break the crispbreads apart.
You can eat them straight away, but
if you want to store them and retain their crispness, the following step is very important:
Turn the heat down to 75°C and place crispbreads back in the oven to dry out for a couple of hours.