As promised in the previous post, here are a couple of low-carb recipes.
Low-carb waffles: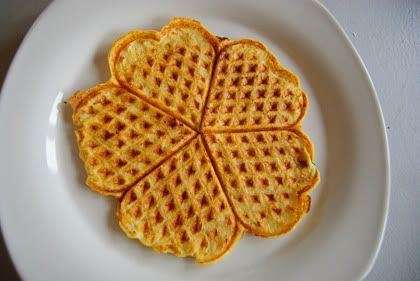 4 eggs
100 ml sour cream (full fat)
100 ml double cream
1 tbsp locust bean gum (also known as carob powder)
1 tbsp psyllium husk fibre
1 tsp baking powder
100 ml water
pinch of salt
1/2 tsp of ground cardamom (optional)
2 tbsp splenda (or equivalent sweetener)
Combine all ingredients in a bowl and mix well - I use a hand held blender. Leave the batter to rest in the fridge for 20 minutes - after this it will be quite thick and rather fluffy, almost mousse-like. Cook like normal waffles in a waffle iron. They tend to come out a bit "flat", but they taste divine. Serve with butter, or maybe some whipped cream.
Low-carb crackers - great alternative to crispbreads: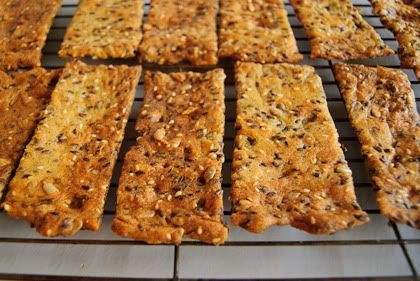 2 eggs
2 tbsp melted butter
2 tbsp psyllium husk fibre
2 tbsp linseeds
2 tbsp sesame seeds
1 tbsp sunflower seeds
1/2 tsp baking powder
100 ml water
Combine ingrediants well in a bowl and leave to rest for 20 minutes. Spread thinly onto a greased baking sheet. Bake at 225 °C for 20 minutes, then lower the heat to 150 °C and bake until they're nice and crispy - about another hour or so. Allow too cool on a wire rack. Yummy with cheese, or maybe with smoked salmon... loads of options here!
Stir-fry with courgette: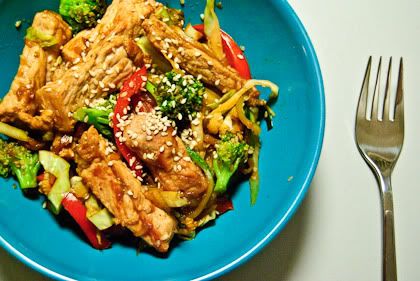 Not really a recipe as such, but more to give you an idea of how I use courgette as a substitute for pasta and noodles. Here, I stir fried strips of pork with florets of broccoli and cauliflower and a few slices of red pepper. I seasoned it with ginger and chili powder, added half a courgette that I had cut into strips using the V-slicer, and a dash of soy sauce. Sprinkled a few sesame seeds over. Yum!